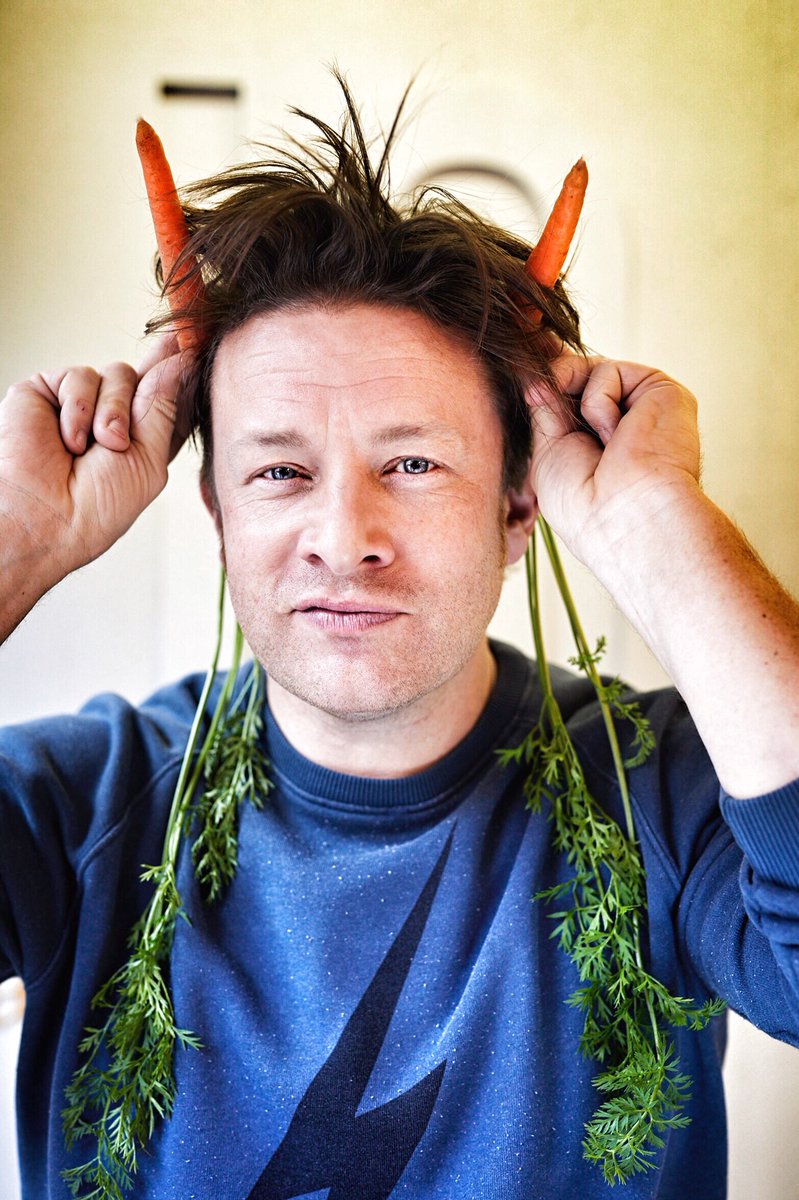 In this episode, Jamie starts us off with a slightly dubious veggie pad thai. He makes a sauce with sweet chili sauce (?) silken tofu, tamarind, garlic and lime but leaves out the usual ton of palm sugar which pad thai generally contains. (My dentist would approve.) There are rice noodles and a peanut garnish. He dry fries the veg to get it to blister and and adds lettuce, topping it with a fried egg, which I don't think is right. It looks quite different to the pad thais one sees whizzing about Thai restaurants. Could he have stirred the tofu through it rather than using it for the sauce? The Doctor, Thai food obsessive that he is, seems disapproving .
Jamie then visits a village in very rural Jodhpur in Rajasthan, where he is excited to learn to cook in such a rural setting. He jumps into a vegetable delivery van, with a bloke who seems a bit like a milkman but delivers vegetables at night, rather than milk in the morning. They drive past some elderly Rajasthani farmers on tractors. Jamie and the delivery man yell out the window. Are they shouting 'subji'? I'm not quite sure. He visits some ladies wearing beautiful patterned fabrics. They make carrot pickle with chili preserved with oil which will be ready to eat in four days. Jamie explains the importance of preserved veg when fresh isn't always available and how a meal can be made from pickle and roti. Jamie pops next door to see some ladies making dal, methi aloo and what I think are roti… The ladies sit on the floor to prep their veg and cook over an open fire. We aren't shown much cooking so it's hard to be sure what the breads were but I bet they were delicious.
Low and behold. in a well-established pattern, Jamie appears to make something next that has little to do with the previous segment. He makes a roasted new potato salad with pickled veg. He roasts the potatoes with lemon zest, rosemary and garlic and pickles cucumber, radish, carrots and red onion in mustard, red wine vinegar and lemon juice. (He doesn't just use any carrots – there is an orange one and yellow one! A bag of nine multicoloured carrots costs £1:25 at Morrisons. Multicoloured carrots are £2:89 from Ocado.) The pickled veg go on top of the potatoes and are topped off with lots of fresh mint and dill and feta. It looks good but I'm not quite sure when or where I'd serve it. It's the sort of thing you'd have somewhere that serves a selection of salads. You probably could serve it cold at a party with lots of food on the table.
Next we visit an urban farm in London, which is a social enterprise. Not only do they deliver veg boxes to the locals and restaurants, they also sell their wares at Dagenham tube and hold cooking sessions. We see a session where local women who Jamie describes as marginalised are invited in to pick veg and cook together. It isn't so much a class as sharing – women from Turkey, Algeria and Bulgaria cook together. We see stuffed romano peppers, bulgar salad and pide, boat shaped Turkish pizzas. (I bloody love pide. You can find me eating pide on Lewisham High Street – it may be a rather shabby restaurant but I really recommend the aubergine pide.) I'd like to know a bit more about the women. We are told they speak English as a second language but little else. Whatever their story, we see them as a very capable team of cooks who then sit down to a meal around a table together. No sad stories or tales of how they have been rescued by the British. (I've been reading Dina Nayeri who is very vocal about moving beyond the ideas of refugees or immigrants as people to be pitied and rescued.)
The final dish is a cauliflower cheese pizza. I am horrified and delighted, in equal measures. I am a big fan of cauliflower cheese but am horrified by the idea of serving it as a deep pan pizza. I'm horrified by any sort of deep pan pizza, pizza snob that I am. Jamie makes a great big mess as he puts together the dough on his expensive looking marble worktop but some expert kneading cleans up all the flour and dough. He leaves it to rise in an oiled bowl covered with a cloth he's run under some hot water, a clever tip I'll bear in mind. He makes a white sauce, adding mustard, ALL of the cauliflower and lots of (unspecified) cheese. He presses the dough into an oven proof frying pan, adds the cauliflower cheese and leaves it to prove, all in the one dish. There is a man who knows how to save on the washing up. I think about making it with macaroni cheese, inspired by the Scottish macaroni pies I've heard about. I feel a bit overexcited by the thought of it, macaroni or cauliflower. I might make it when I go to Dublin later this month. It will inevitably be very cold and comfort food will be very welcome. I will sit around with my oldest friends, talking and eating and they'll tell me to shut up if I bring up pizza snobbery.