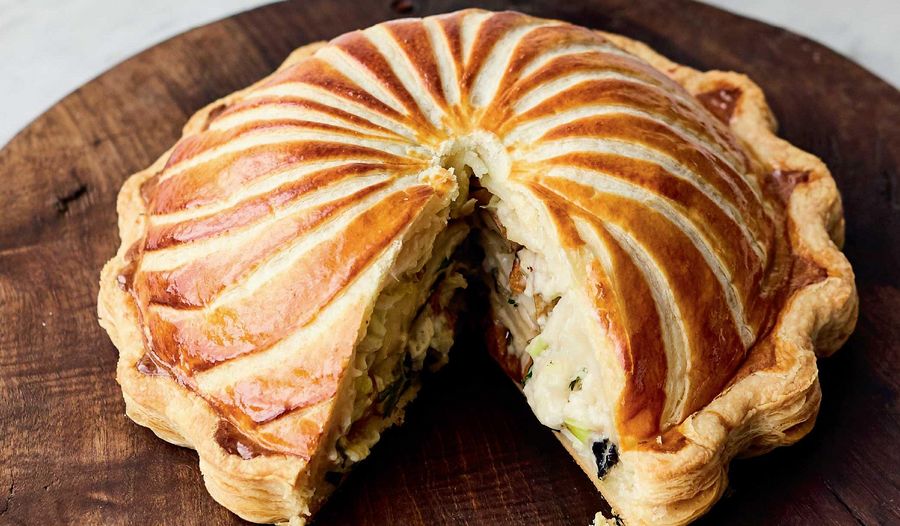 I must say I'm not a huge fan of the question, 'What do you have for Christmas dinner?' There is something quite bizarre about people wanting to be satisfied by the idea or the look of something that they aren't going to eat. And what do you say when you've grown up with a non-Christian tradition, one where that one day and one meal aren't the highlight of the year? To make sure I wasn't missing anything about the roots of what I grew up with, I googled, 'What do brahmins eat for Christmas?' and even 'What do Bengali Vaishnavas eat for Christmas dinner? but got nothing back in response. We did have Christmas celebrations every year at the temple but I know they were completely different to most people's experiences of Christmas.
An all pervasive smell of ghee, with notes of rosewater, cardamom & saffron and a hint of tangy fresh whey hits a spot for me. I don't really get the intense attachment to Christmas dinner. We had regular festivals throughout the year with huge amounts of festive food and sights, smells and rituals aplenty. In contrast to this, I would argue that most of mainstream society, increasingly secular as it is, doesn't have many traditions and festivals; Christmas feels like one of the few festivals and traditions that really still exist. Miriam Margolyes described the Jewish festival of Passover as the equivalent of Christmas but with less 'slumping – it's a much more active, communal event', which also seems like a good way of describing festivals at the temple. I feel puzzled by the attachment to one single meal in the year and to things you wouldn't normally choose to eat. I always felt the variety of food was a positive aspect of our festivals: different people would cook and the feast would vary quite a lot from one occasion to the next, depending on who was in the kitchen.
There is a supposed gap on the plate that I am expected to fill but I am very aware that many of the things I hold dear simply do not slot into Christmas dinner. That said, I am confused by this so-called gap on the plate. I remember my housemates making Christmas dinner at university and never having seen so much food outside of a temple celebration. I took a bit of everything and my plate was already filled. Where was this gap I was told about? I'm certainly not going to NOT make something, but it highlights the issue I sometimes encounter of people insisting, in the face of plenty, that there is something missing or a deficit.
I'm left feeling a bit rudderless, directionless, somehow expected to hit a spot I don't really understand when it comes to Christmas dinner. To give you an example of my rudderless-ness, I once made some dinner guests a sweet potato, spinach and hazelnut wellington (in September). They seemed far more impressed by it than the stuffed baby aubergines, squash& potato subji, green beans, rice, dal and chapatis I'd made when we had them over the time before. I felt they were simply and objectively wrong, one involved skill, the other was just wrapping things in a sheet of puff pastry. (Similarly, when asked what you replace meat with, people are usually happy if you say, 'mushrooms' but I feel this is an embarrassing failure of imagination to give as a blanket response.)
I am left scratching my head that I seem to be competing with a huge dead bird in the middle of the table, which I fail to see the appeal of. I don't like the smell and the carving is oddly surgical, not something I associate with food. A turkey might remind you of pleasant or happy times with family but it reminds me of my dad's crotchety relatives; the level of deep resentment that our mushroom wellington being on the table seemed to draw out in them and their need to make jibes, seeming never to have got used to our vegetarianism, despite Dad have given meat up thirty eight years previously.
Christmas dinner is quite fixed and quite solidly British but vegetarian food is rarely British. You can't just swap in halloumi or rely on Italian carbs at Christmas dinner. Providing a vegetarian option the rest of the year nearly always involves borrowing from other cuisines, other cultures. The BBC Good Food website has a spiced Moroccan pie which they suggest serving as a festive option with a yogurt & mint harissa sauce but I'm not sure how this would go with gravy and it doesn't seem very in keeping with the rest of Christmas dinner. Is this why we end up with sodding nut roast? 'If there's such a thing as pariah food – a recipe shunned by mainstream menus, mocked to near extinction and consigned to niche hinterlands for evermore – then the nut roast … is surely a strong contender', Felicity Cloake of the Guardian once said.
I don't want any hint of Gerald anywhere near my table. (Gerald is an imaginary character who periodically crops up in this blog, the symbolic embodiment of 'musty old associations, synonymous with soybeans and brown rice, with ageing hippies spooning beige bowlfuls of worthy grains and pulses'. (Reynolds, 2019)) I also want food, especially special occasion food to be proper food, to have real tradition attached to it and for there to be bossy grandmothers asserting that there is only one right way to make it. Nut roast has none of those things, having been invented as a sort of health food in the early 20th century by John Harvey Kellogg, who along with his brother and sister-in-law, invented cornflakes as he believed that bland food would stop young men masturbating.
The nut roast does appear to have been given a bit of a makeover with the addition of some Middle Eastern ingredients.. I found one that was barely a nut roast at all; so full that it was of lovely ingredients, Ottolenghi-fied with pistachios and cranberries, topped with pomegranate seeds. It, including another one topped with a layer of squash, are so beautiful they look like desserts. One from Delicious Magazine is more of an Iranian rice dish with halloumi added – it seems a shame to pack it into a tin and pour gravy over it and I'm puzzled by the idea of rice for Christmas dinner. On the note of Ottolenghi's influence, BBC Good Food features a big roasted stuffed cauliflower but I want more calories and stodge, something more 'made'. It looks too healthy and possibly even summer-y, moving towards the Deliciously Ella school of making attractive dishes for people with very restricted diets. I'd also rather keep the cauliflower for making a side of cauliflower cheese and if going for entire vegetables, I think I'd prefer Meera Sodha's entire roasted pumpkin, stuffed with mushrooms and nuts, albeit with a chunkier filling. However I'm aware that the sceptics, the Type 2s tend to scoff at the sight of visible entire vegetables. These are the sort of people who venerate Christmas dinner but conversely view cooking as taking precious time away from playing video games, masturbating and mansplaining and just want to get as much processed meat into themselves as quickly as possible in order to get on with the aforementioned activities. (One wonders if they should try eating more cornflakes)
As a recent article in the Times stated – 'things wrapped in pastry are objectively good' and the English have a proud tradition of things encased in pastry. M&S has a beetroot wellington for sale this year or you could make something similar here I suspect the faux-beef appearance is a big part of it's appeal but I feel there is something childlike about needing food to look like something familiar for it to be acceptable. I much prefer an 'ooh, that looks nice' approach rather than trying to imitate meat.
Gordon Ramsey's wellington stuffed with parsnips, mushrooms, taleggio, hazelnuts, tarragon and parsley looks good. I mostly approve but I'm not sure about cheese and gravy or indeed a parsnip filling; my mother strongly disapproves of using the same ingredients twice in a meal and I fully intend to make roasted parsnips. Jamie Oliver uses butternut squash, adding pine nuts, raisins, cinnamon, chili and coriander in his festive suggestion. I normally love Jamie Oliver but this smacks of 'curried', the worrying British habit of adding curry powder to random things. (I strongly disapprove of curry powder.) I also think it would also be too sweet. People like to go on about umami and savouriness so I'm really puzzled when vegetarian options tend towards being sweet.
I'll go with Jamie Oliver's suggestion of using squash and while I'm not especially taken with the M&S beet offering, I like the idea of using root veg to structure things – I like a neat slice, a reveal of layers within. The Lazy Cat Kitchen's uses the long part of a butternut squash (the shaft?), sliced in two and roasted with thyme, rosemary and sage to structure a wellington, adding layers of spinach, hazelnuts and either black olive tapenade or mushroom duxelle. You could also use chestnuts, sweet potato, cranberries, blue cheese and pecans. All suitably seasonal flavours, just not all at once… Unless you want to go down the the Vegetarian Society's path of making a simply enormous wellington which features on their website and looks peculiarly like some sort of roast. It is cylindrical; barrel-shaped and filled with what I assume are mushrooms and chestnuts. It appears to be almost as tall and wide as the wine glass next to it in the photo and has a glazed brown top with some nice knife work. I'm really not sure how you would actually make something quite that big, what with wrangling an immense sheet of pastry and keeping the filling in one piece, but it is impressive. (Mary Berry once sagely said that you should never make an en croûte bigger than 12 inches.) If you would like to make a wellington, Felicity Cloake wrote a very thorough piece on making a perfect one, some two weeks later than I wrote this, I might add. She explores the fixation with using mushrooms in a vegetarian option, includes some links to other nice recipes and has some excellent step-by-step photos for some simple techniques for assembling a very handsome wellington.
Although it's very easy to buy a pre-rolled sheet of puff pastry, it's a bit tricky to work with. One minute it's too cold and cracks, the next it's too warm and goes all thin and sticky. It's also quite hard to make a neat wellington – it's easy to over-fill it and end up with something a bit lumpy with holes in, where the pastry has been over-stretched. If you like puff pastry, but would rather just cut out some circles of pastry, you could make a pithivier, which is round and decorated with some lovely knife work, like a galette des rois. The question is however, do you want to go for a brown filling or a colourful one? Brendan the Buddhist made a lovely looking pithivier on Bake Off some years ago (colourful) but I'm also taken with Jamie Oliver's celeriac pithivier (Ottolenghi-inspired no doubt and brown) and indeed Ottolenghi's mushroom & tarragon (also brown) M&S even does an exciting looking pithiver shaped like a portobello mushroom.
Is filo pastry too middle Eastern or Mediterranean for Christmas dinner? I suppose that depends what you put in it. I'm distinctly underwhelmed by Pinch of Nom's Christmas filo galette as I don't think a free-form tart is fancy enough for a special occasion but filo is easy to shape into a something tall, using a springform tin, like this one, but with a more seasonal filling. I also really like the look of various wreath-shaped pastry creations I've seen online; some simple, some ornate, made with filo or puff pastry, some quite tall and almost like a bundt or savarin in shape. I suppose you could also go for an m'hanncha style coiled filo creation? Would this win meat-mimicry points for being coiled up like a Cumberland sausage? Stanley Tucci talks about making a timpano as an Italian Christmas tradition. It is commonly made with an outer casing of slices of roasted aubergine, as featured in a Rachel Roddy recipe, and filled with rice and cheese. I've thought about it as a gluten free option, filling it instead with multiple, colourful layers of root veg, spinach, chestnuts and pecans. (JusRol does a good gluten free puff pastry but it can be tricky to work with as it becomes sticky in texture almost instantly.) The Co-op's Food Magazine featured a beautiful roasted vegetable creation but layered in a loaf tin. Lovely as it is, I feel it might be better suited to a festive table in spring or summer.
I've talked quite a lot about a vegetarian dish fitting in with the rest of Christmas dinner but it also has to fit in with a plan, in a kitchen and into an oven. A part of me is a bit anti-Christmas. It seems to revolve around a huge amount of work for women to do, to prepare so much food that it can't possibly all be eaten, to cater to the many needs of lots of people in a kitchen or indeed an oven that probably isn't big enough to cook that much. Is a vegetarian option just another thing to do, when you're burdened by feeding the whole family including fussy children and adult men? In which case I strongly support buying something or making it advance to be pulled out of the freezer when required.
The comedian Sofie Hagan views the British insistence on eating 'an entire Christmas dinner every Sunday' very peculiar. I feel she has a point. If you think about it, a Sunday roast is a fancier version of meat & two veg and and a Christmas dinner is a fancier version of a Sunday roast. And for this reason, it seems reasonable to suggest a fancy pie. Piemaking is very English; the Tudors decorated their tables with entire roasted animals and enormous festive pies. If you're not going to have one, could you have the other? While people say a pie is too ordinary, too quotidien, I don't know anyone who makes enormous pies, (except the contestants on Bake-Off sometimes) or even where I could buy one. If something isn't readily available outside the festive season, has lengthy tradition behind it and is both large and attractive, does it pass the Christmas dinner test? Many Christmas traditions originated in the Victorian era and according to Regula Ysewijn, the Victorians did indeed make Christmas pies, with one being served to the Queen in 1858. (One could of course be cynical and say that to pass the test, it needs to be the sort of thing that no-one wants to eat the rest of the year, save for people on diets. Should I perhaps therefore make Jamie Oliver's celeriac pithivier, pictured above, with a giant swede? The Christmas dinner test also demands that the main course should be prone to dryness and take so long to defrost and cook that it is highly likely to significantly delay dinner.) There are various ideas online for big Christmas pies if you look for them: some non-vegetarian, some meat-free. Some are round, some are made in big loaf tins. M&S has a savoury pie dressed up as a Christmas pudding, adorned with a holly sprig and berries made of pastry, which makes me smile. M&S also appear to have written 'Merry Christmas' with bits of pastry on their various wellingtons, which certainly is one way of making something unique to the time of year. I won't be making a pie but if I were to, I feel I've got plenty of ideas to work with to create something lovely.
And there we have my numerous suggestions for a vegetarian Christmas dinner. I haven't shared a recipe of my own but I think I've provided plenty of links and suggestions to choose from, whether you opt for a brown or colourful filling. Will there ever be a traditional vegetarian option for Christmas dinner, something that people have every year and only on that day? Possibly not, as due to a lack of British tradition in that sphere, meat-free festive options are subject to trends, whatever is in vogue that year, whatever the recipe developers for Delicious magazine and the big food retailers have come up with. I don't see that as a bad thing though as I like variety. You could of course create your own traditions but I like the challenge of making something creative, something new each year. Is that a reasonable tradition to establish? I'll go elsewhere for tradition that evokes nostalgia and hits a spot; my hit of ghee, rosewater, cardamom, saffron and whey.
What will I be making this year? I'm not sure yet. I'll be in Belfast for Christmas for the first time in over ten years. As I derive such joy from tricking my dad into eating what he calls 'bloody middle class vegetables', perhaps I will make Jamie Oliver's celeriac pithivier (as pictured in the photo above from his website).